Eyes on the Enemy: Pittsburgh Penguins
"Eyes on the Enemy" will be a continuing bi-annual series on the NY Rangers Blog giving fans updates on the Rangers closest rivals. Part 6 of the offseason version of 'EotE' will focus on the Pittsburgh Penguins. All contract figures listed below courtesy of capgeek.com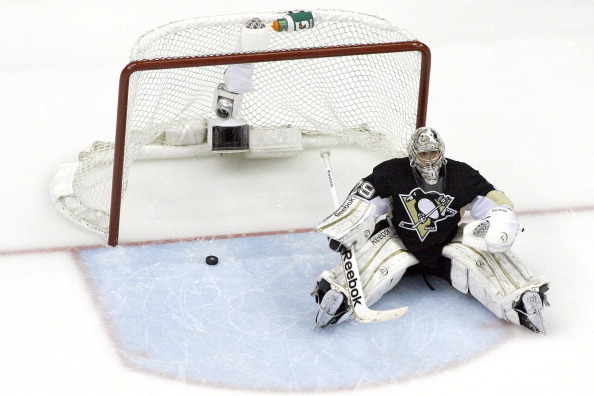 For a team that has been as successful as the Penguins have been over the past several seasons, you would assume that after winning 36 out of 48 games and make it all the way to the conference finals, the team would be fine and dandy heading into the following season.

Recent playoff performance has been a source of massive frustration for the franchise. The Pens blew a 3 games to 1 lead against Tampa in the first round of 2011 postseason, losing Games 5 & 7 at home. Who can forget 2012's six game epic against the Flyers which both teams scored at will regardless of who was in net. Even the Islanders this past spring gave Marc Andre Fleury and the Penguins everything they could handle before Fleury forced coach Dan Bylsma's hand in having to bench the former first overall draftee for the remainder of the postseason. Fleury's GAA of 4.63 and 3.52 in the last two postseasons has not only jeopardized his job but even led to speculation that Bylsma's job was at risk as well, which worsened after Boston swept Pittsburgh in the conference finals by an aggregate score of 12-2.
For all the transactions Pittsburgh has made to cover up the gaping hole in net, they still haven't found a large enough band-aid to defuse Fleury's playoff implosions. Sure they traded for and re-signed Tomas Vokoun prior to the lockout, but at 37, Vokoun's time as a full time goalie are well behind him. Fleury has two seasons remaining on his contract. It will be very, very interesting what GM Ray Shero decides to do with his inconsistent franchise goaltender

On the Farm:
Pittsburgh traded its 2013 first round pick, 28th overall, to Calgary in the Jerome Iginla trade.

The Penguins have a nice stable of defensive prospects most of whom are NHL ready. Simon Despres (1st-2009) bounced back and forth between the AHL and NHL last season, but when he did play in Pittsburgh, it was alongside Kris Letang. That pairing will likely stay together going into next season.

Derrick Pouliot and Olli Maata were selected by the Penguins in the first round of the 2012 draft, likely as a knee-jerk reaction to the poor defensive showing in the playoffs against Philly. Both highly touted players will spend another season in the Canadian junior leagues before they're re-evaluated for NHL readiness in 2014.


Finally, the only forward in the prospect pool worth a mention is winger Beau Bennett. Bennett, called up from Wilkes-Barre in early February, found himself on a line with James Neal and Evgeni Malkin. Hockey's Future describes Bennett as "an offensively creative winger who is most effective when the puck is on his stick. He has the ability to carry the puck up ice, run the powerplay from the half-boards, play the point, and possesses a hard and accurate repertoire of shots. He is also quite adept at creating open ice." Bennett was 3-11-14 in 26 games as a Penguin last season and his development will likely continue in Pittsburgh next season.

Cap Situation:
While the Penguins had the cap room to acquire Brendan Morrow and Iginla at the trade deadline to make a run at the Cup a season ago, they'll be counting pennies after this season when raises to Letang and Malkin kick in, but we'll make that a story for another day. The Penguins stayed quiet through the un-restricted free agency period, opting to bring back a number of their own players as a response to the cap issues that will face the club next summer. As of this writing, the Penguins are roughly a million dollars over the cap heading into training camp.

Odds and Ends:

Unlike Dennis Green's issues with the Chicago Bears, we know what the Penguins are; a high octane, offensive juggernaut that will win far more regular season games than they will lose, despite some holes on their blue-line and in net. Now with healthy Malkin and Crosby starting the season together, there will be plenty of "experts" that will hitch their wagons onto this team and predict Stanley Cup #2 in this era of Penguin hockey. The only thing possibly preventing this scenario from verifying is the big question mark in goal. We just saw what happened to Pittsburgh when they ran up against a team that was far more defensively responsible in the postseason. Is Fleury going to automatically regress once the postseason starts as he has done in the previous two years? You can bet Ray Shero isn't going to sit idly by and watch Fleury fumble away another opportunity to bring a Stanley Cup back to Pittsburgh.

Follow me on twitter: @NYRblogneill
Email me: This email address is being protected from spambots. You need JavaScript enabled to view it.